Blomus Stainless Steel Mailboxes
Filter
Close Tab
Shopping Options
Show All Filters
Brand Overview
Blomus Mailboxes design their modern mailboxes with one question in mind: Where can you still find something truly unique in this day and age? In a world increasingly characterized by conformity, the unusual becomes precious. The Blomus brand represents the exceptional amongst the mundane, the face that stands out in a crowd. In their quest for the remarkable, Blomus designers have identified an inexhaustible source of inspiration: the natural world. Elementary forms, solid materials, authentic radiance these values can be rediscovered in Blomus Mailboxes in their economical yet sleek design. If you were to travel forward in time to find the right mailbox, you might find something like the Blomus modern mailbox collection.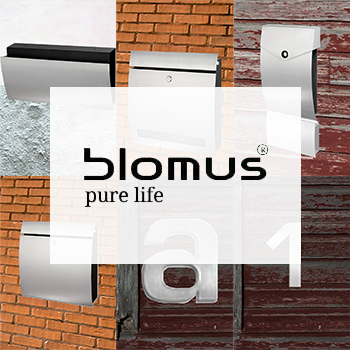 Blomus Mailboxes are modern mailboxes designed for elegant homes. With a history of quality design blomus has brought its European appeal to the USA and become a staple for designers and architects. From Miami to New York City the wall mount stainless steel mailboxes and address numbers are just the tip of the iceberg when it comes to Blomus' stainless steel decor collection. Blomus is frequently featured in magazines and photographs showing off the contemporary design of its mailboxes and other collections.
Frequently Asked Questions
Question: Do you have a residential mailbox that cannot get beat up (e.g., iron)?
Answer: We suggest the Strong Box by Bluegrass Woods or any of the Mailboss Mailboxes.
Question: Do you have topper finials?
Answer: Yes, please click here to view. Thank you.
Question: Do you have replacement of the front for the Blomus Signo Stainless Wall Mount Mailbox?
Answer: Replacement parts are only sold by Blomus. Their contact information has been forwarded to.
Customers Who Trusted Us With Their Projects