Filter
Close Tab
Shopping Options
Show All Filters
Brand Overview
A division of 2B Global Inc., 2B Global Mailboxes is a California-based corporation that manufactures premier quality 4C Mailboxes and mailbox enclosures. Their USPS approved mailboxes are designed to prevent mail theft while providing quality aesthetic appeal to institutional or commercial settings. Furthermore, all mail-slot numbers and letters are made with quality, precision engraving methods that reflect 2B Global's strict quality standards. When shopping for your commercial or institutional mailbox needs, you can consider 2B Global Mailboxes with confidence.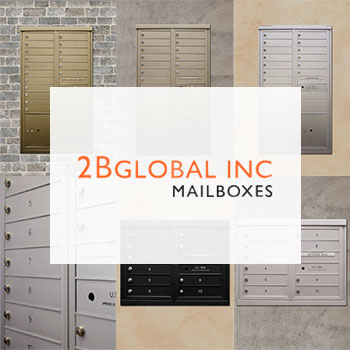 2B Global Mailboxes
2B Global Mailboxes takes pride in the construction and design of their 4C mailboxes. An industry leader in providing USPS-approved mail delivery and collection products, 2B Global Mailboxes continues to design, develop and manufacture with excellence. BudgetMailboxes.com offers the largest selection of home mailboxes and commercial mailboxes. Feel free to contact us if you have any questions. A product expert is ready to help you find the mailbox that's ideal for your business or residential mail requirements.
Frequently Asked Questions
Question: I'm also looking for Special Lite Curbside Mailbox Accessories. Are they available?
Answer: Yes, we have several Special Lite Curbside Mailbox Accessories available for selection. Thank you.
Customers Who Trusted Us With Their Projects